​
As the calendar year draws to a close, it's time to start thinking about the 2017 proxy and annual meeting season.
In 2016, we managed nearly 2,000 annual meetings, which included more than 13 million proxy card mailings, two million electronic distributions, and the tabulation of more than two million votes. Computershare has unmatched expertise in planning and executing annual and shareholder meetings.
Virtual meetings
To support our clients annual meeting needs, we have developed a virtual meeting solution that provides your shareholders with the ability to view your annual meeting live and securely cast their proxy votes without physically attending. You have the option to hold an entirely virtual meeting or supplement your live meeting with a virtual component for those who can't attend.
The site can be designed with your company's brand and imagery, and is optimized for mobile and tablet use in addition to traditional web browsers.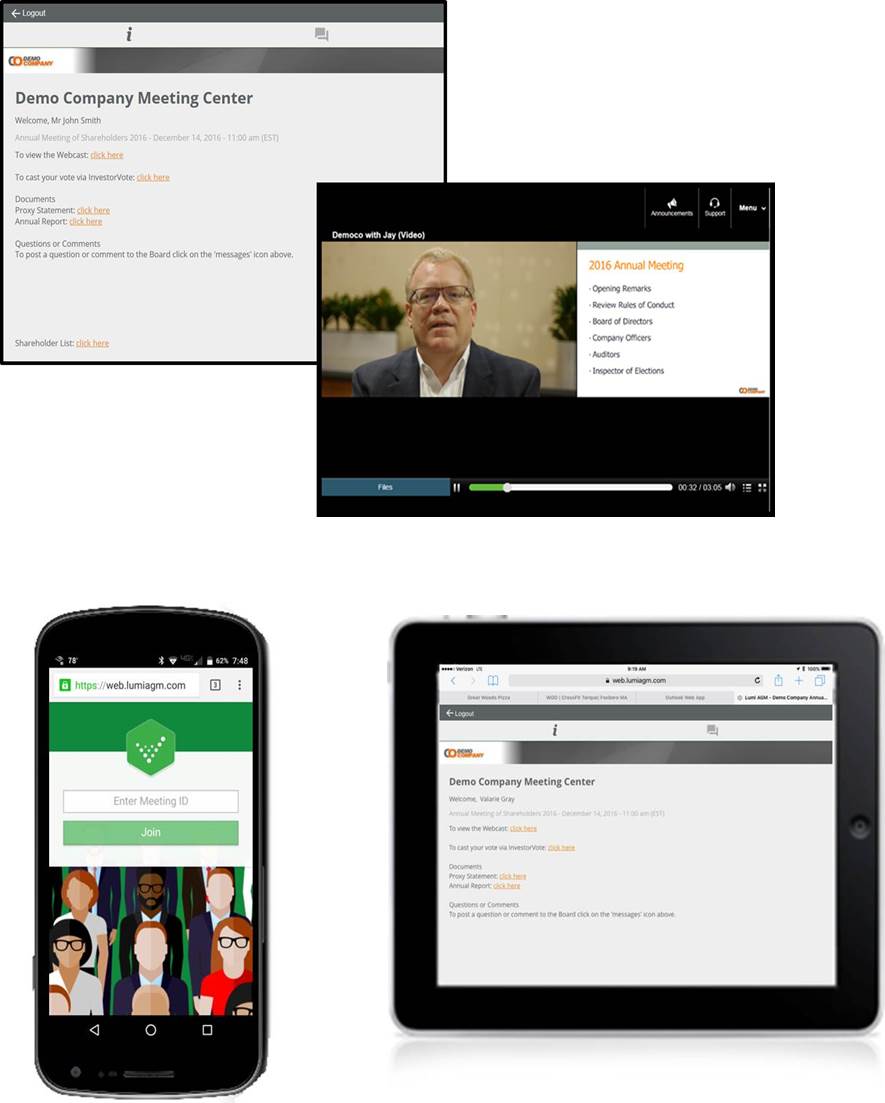 Computershare's virtual meeting service allows your shareholders to:
Attend the meeting virtually from anywhere
View your meeting live and cast their votes without physically attending by simply accessing a web link
Use any device and operating system
Shareholders log in using their unique control number and will have the same options to participate in your meeting as they would have if they attended in person. As the meeting administrator, you have the ability to present slides, host documents, share live video and audio, provide chat and post a recording of the meeting proceedings.
Computershare provides on-site technical assistance throughout the meeting from start to finish. Tech support personnel can manage the flow of shareholder questions, and handle technical issues that may arise.
Additional services
Beyond our innovative virtual meeting tool, we provide a number of additional services that help you run a smooth meeting:
Online and phone voting – Our InvestorVote™ website provides secure online and telephone voting capabilities. You can customize your holders' voting experiences by adding your company's logo, colors and important meeting information, such as director biographies or meeting admission tickets.
Online reporting – Our ProxyWatch™ website displays up-to-date information about your meeting tabulation in a user-friendly online format. You can also download information in PDF or Excel formats.
Online document hosting – Our Envision™ solution allows your holders to view meeting documents online, access the voting platform and stay up-to-date on the latest meeting information.
Broker search and distribution – We'll ensure that you comply with SEC rules with a thorough search process and dissemination of proxy material to all banks and brokers.
Record date and materials mailing – Our advanced sorting capabilities keep your costs under control and ensure that your proxy materials are sent by the required record date.
Notice and access – Our experts will help you plan a proxy notice and delivery strategy that complies with SEC requirements and lowers your printing and mailing costs. We also offer convenient online access to shareholder materials.
SEC EDGAR filing – Our taxonomy experts can submit your 10K, proxy statement and quarterly filings in HTML and XBRL to the SEC.
Ready to get started on your 2017 annual meeting? Contact your relationship manager or submit a request today.