Across all industries, organisations are striving to increase their digital capabilities and become "digital first" organisations. However, not all new digital offerings translate to high increases in retention or customer acquisitions. Organisations are now asking why their digital investment isn't yielding the results they expected.
According to a recent study by Nielsen Finance, the primary reasons customers have not adopted digital channels is their continued preference for personal service, as well as technology limitations that do not provide a convenient and easy digital experience.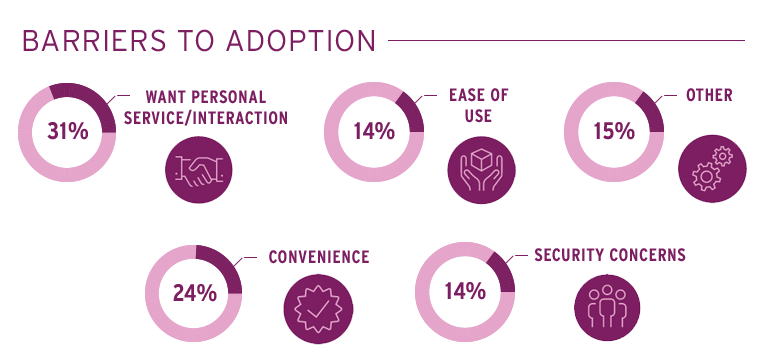 Technology limitations
There is no doubt digital technologies have reshaped consumer behaviour and expectations. According to Accenture's recent study, Customer 2020: Are you future-ready or reliving the past, customers are using more digital channels than ever before. 88% of consumers used at least one digital channel to search for products and services, and 40% want more digital engagement than what companies currently provide.
Consumers' adoption of digital channels as part of the overall channel mix is low due to several barriers that companies have not addressed completely like ease of use, unable to perform the tasks they need, not convenient or simply not fast enough. Customers are becoming increasingly impatient and want all transactions to be fast with minimal effort.
An omni-channel strategy
Consumers are demanding digital but not to the exclusion of other channels, which remain critically important. People embrace digital technologies to varying degrees. Some consumers prefer to interact via online channels at every opportunity. Some consumers still lean heavily on traditional channels, but even they are likely to go digital for certain activities. Organisations that have a cohesive approach between digital and traditional channels can increase customer loyalty, differentiate themselves, and drive growth.
Success by delivering amazing experiences
Organisations can achieve a better outcome through understanding how their customers behave at each stage of the customer journey and deliver an amazing personalised experience across all channels.
1. Understand your customers
Create personas describing segments of your customer population to better understand their behaviours and preferences.
2. Map the customer journey
Understand your customer's different needs and pain points across their journey - from discovery, onboarding, through to ongoing servicing. If the customer does not experience a positive end-to-end process, they are likely to abandon new account openings or switch to another provider.
3. Create an omni-channel strategy
When it comes to customer acquisitions, organisations which are investing in campaigns that consist of a series of digital, paper and experiential interactions, are the ones succeeding in creating a more engaging brand experience.
4. Seamless integration across channels
Provide a seamless and consistent experience across all channels. Allow your customers to perform activities on their desktop, laptop, tablet, mobile, paper, or in person, and enable them to fluidly move between digital and physical interaction based on their preferences.
5. Make every engagement simple, convenient and fast
If you're still asking consumers to type in basic details when completing applications, you're behind the competition. Leading organisations are using data to prepopulate information, using smart workflows to deliver a faster outcome, conducting ID and credit checks on the spot, thereby onboarding new customers in minutes.
With a more cohesive strategy encompassing digital and traditional channels, combined with an understanding of what your customers want and need, organisations can more effectively win, retain and grow customers.
Contact Computershare today and discover how you can better engage your customers.
About the author
Senior Manager – Marketing & Communications

Judith Yani

Since joining Computershare in 2006, Judith has worked in marketing, communications and various client-facing roles. As the Senior Manager – Marketing & Communications for the Communication Services and Utilities Services business lines, Judith is passionate about delivering positive customer experiences. She ensures clients are provided with valuable insights to uncover more innovative ways to engage customers and deliver efficient business solutions.