​Reckitt Benckiser's award-winning communications
We partnered with Reckitt Benckiser (RB) to increase employee engagement and take-up for their relaunched Global Stock Profit Plan (GSPP). Working with their central team, global coordinators and advisors we developed a new suite of plan communications.
We saw a phenomenal result. Following the relaunch, RB achieved a 51% take-up globally. They received two accolades at the annual ProShare Awards recognising their plan design and communications.
What did we do?
Aligned share plan communications with their internal brand
We know how critical communications are when it comes to engaging employees in a share plan. RB have run share plans for the past 20 years, but plan delivery and communications previously differed across their 27 countries. In 2018, they decided to change that. They partnered with us to revitalise their plan communications and make them consistent across the globe.
For RB, being part of the GSPP means being part of something bigger. The communications needed to inspire feelings of pride and togetherness, capturing the idea that 'when the company performs well, you benefit'. RB summed this up with the tagline "Share in our outperformance". This was to be central to the messaging and feature on all collateral.
Variety of communications for broad appeal
Our communications strategy focussed on making the plan accessible, attractive and easy to understand. It also needed to be easy for employees to get to the portal to enrol.
We chose a variety of different communication channels, meaning we could appeal to employees with different preferences. We created digital brochures, an online enrolment guide, emails, and an animated video. An interactive savings calculator allowed employees to see the potential value of taking part. All touchpoints link straight to the share plan portal, where they could sign up and confirm their contribution. Finally, all communications were translated into 27 languages, ensuring they could be accessed across all regions.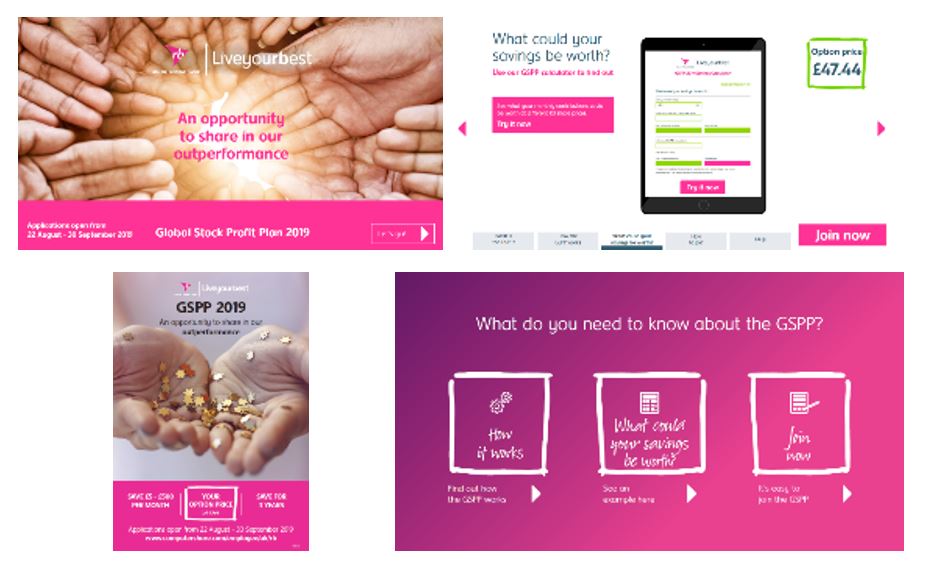 What were the results?
14000
Participants worldwide
How can we help?
About you: