​
Last night saw the ESOP Centre's Annual Employee Share Ownership Awards return to London's Reform Club for a celebration of some of the most committed and innovative work happening in employee share plans today.

Our very own Employee Share Purchase Plan, 'One Plan', was up for an award, alongside nominations for our clients Aviva, Henderson, Intertrust, Nokia and Rio Tinto.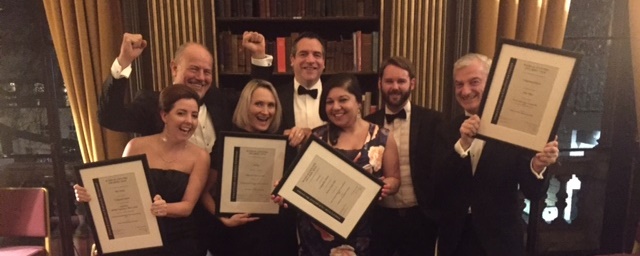 Here's how the results came in:


Aviva – Winner – Best All-Employee Share Plan Communications
Computershare – Winner – Best All-Employee Share Plan (>1,500 Employees)
Henderson - Winner - Best Financial Education of Employees 
Nokia – Winner – Best International All-Employee Share Plan
Rio Tinto – Very Highly Commended - Best International All-Employee Share Plan
"Congratulations to Aviva, Henderson, Nokia and Rio Tinto - and all winners and highly commended companies this year. We're proud to be able to work with companies that recognise the value that innovative and effective share plans deliver to their organisations and staff. 

"Computershare clients have a long history of success at the ESOP Awards, and I'm delighted that we now stand alongside them with an award of our own which recognises the commitment of our people to delivering excellence in share plans."
Jay Foley, Managing Director, Share Plans EMEA   

With 'One Plan' also winning an award at the GEO Annual Conference in Boston earlier this year, we're proud that our work continues to be recognised for its effectiveness. Read more about One Plan.
Well done to all the winners last night, it really was a special evening for all involved.


About the ESOP Centre Annual Awards
The ESOP Centre is a non-profit membership organisation which promotes all-employee share ownership in the UK, Europe and further afield. This year the award submissions were judged by share plan experts Damian Carnell of Willis Towers Watson and Anna Watch of BT.