Our survey with London School of Economics (LSE) shows that employee ownership through equity plans is linked to increased motivation and loyalty among employees.
One of our key goals at Computershare is to increase employee engagement and retention. Leading with best practise, our share plan helps us to deliver against these goals, demonstrating that increased employee ownership strengthens company culture and helps improve business performance.
In 2015, we introduced a new all-employee share plan. We made the plan available across our whole EMEA (Europe, Middle-East and Africa) region, so that employees in eleven countries across the region could take part. We called it 'One Plan'.
To achieve our goals, One Plan needed to:
Give more employees the opportunity to join
Increase employee engagement and interest in owning a part of our company
Help employees better understand our corporate values of Certainty, Ingenuity and Advantage.
We conducted research to make sure One Plan would be accessible to all of our employees
In the design process, we created staff surveys and used existing plan participation data to understand our employees' needs. In response to our findings, we lowered the minimum contribution level in all of our regions.
More of our employees can now afford to invest in our plan, which showed through in the results. After our first enrolment window we increased participation from 1,211 employees to 1,724 - an extra 513 participants.  
We created three superheroes to include in all of our communications
We've been through many acquisitions over the years, resulting in a mixed level of employee understanding about our core values: Certainty, Ingenuity, Advantage. The launch of One Plan has helped to improve understanding of these values amongst employees. Working with our internal communications team, we created three new superhero characters to bring our values to life.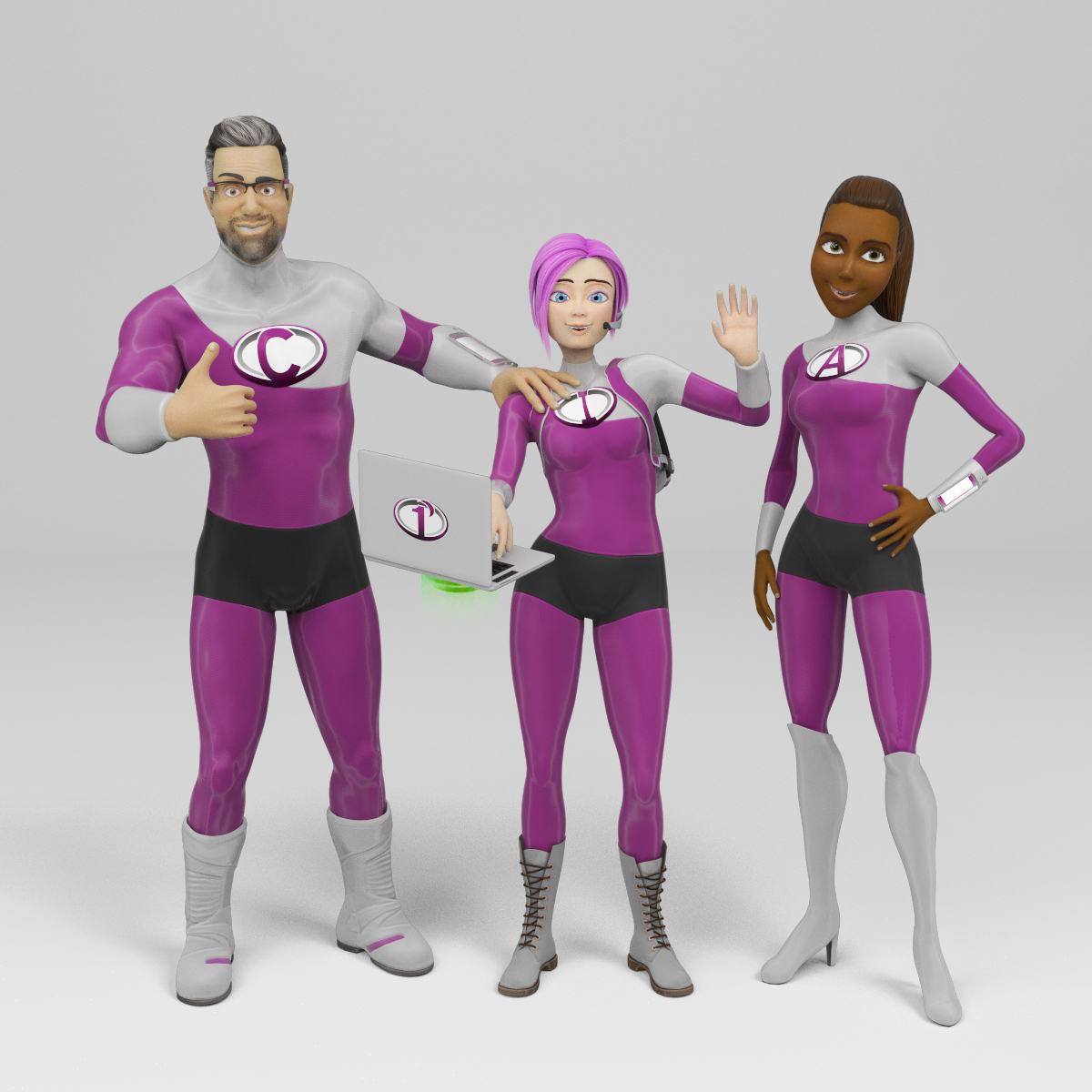 Each character represents a value; (from L to R) Certainty supplies the facts, Ingenuity has the creative tools and Advantage has the expert knowledge. They featured in a range of print, electronic media and staff events.
We carefully selected our communication channels to promote our plan effectively

To make One Plan easier to understand and simpler to join, we created a profile for Advantage on our internal social networking site, CPYou. Employees were able to ask her questions and a share plan expert was always on hand to answer.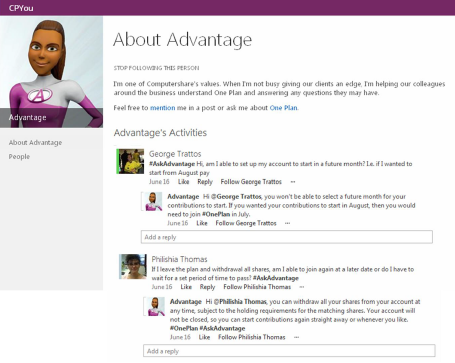 These posts could be seen across the entire company, so all of our employees could benefit from the responses. We also held local 'drop-in' sessions, so employees could have their questions answered first-hand by an expert.
A team of our senior managers regularly reported on the improved levels of understanding and engagement from employees.
"We thought the quality of the communications were excellent. The use of different mediums made it easy to drive engagement and understanding." Lee Steel, Head of HR, HML
"Our staff were really happy to be offered the ability to invest more. The process of joining and/or increasing an investment was really simple and straightforward." Heidi Wilson, Managing Director, Computershare Channel Islands
"The new scheme has been well received in Dublin, being, recognised with a 96% take up. Documentation was good and was well followed up with promotional and explanatory meetings." Trevor Watkins, Managing Director of Registry, Ireland
With an overall 42% increase in employee take-up, we're really happy with One Plan's performance
Our share plan has now seen participants join in eight new regions across EMEA. One Plan has been a great way to provide the opportunity for staff to own a part of our company, while giving us a great platform to promote our core values.
This success has also now been recognised globally. At the 2016 Global Equity Organisation (GEO) awards we took home the award for 'Best Plan Effectiveness'. We're really pleased with this result and we're proud of what we've achieved.