A​n interesting shift in voting trends​​​​​
It is safe to say that the 2015 AGM season was relatively quiet. The plot-twists of the 2012 Shareholder Spring have faded into near-distant memory, and companies will be relieved that 2015 brought few confrontations. In this review we will focus on attendance levels, voting trends and proxy advisor recommendations for the UK FTSE 100 c​​​ompanies to provide an insight into possible shareholder activity this year.
The 2015 Attendance levels remained comfortable f​or the FTSE 100
AGM attendance levels are measured by the percentage of a company's issued share capital that recorded a vote. It is important to monitor these levels. A low turnout can magnify the influence of minority or activist investors, leading to adverse results.
The 2015 season saw average attendance levels remain at a comfortable 70.6%. FTSE 250 companies enjoyed a rise in attendance, but those in the FTSE 100 showed little variation over the last few years. A number of overlapping trends could explain this upward shift in attendance for the FTSE 250, which now exceeds the FTSE 100 average. FTSE 250 companies tend to have a more concentrated shareholder base. As companies enter the FTSE 100, a shift generally takes place towards non-voting private client brokers and retail shareholders. Additionally, it is likely that as a result of the Stewardship Code, some investors may have expanded their voting activity to the FTSE 250.
​There was a notable decrease in rejected and conte​sted resolutions
Only one company suffered a rejected board-proposed resolution and only 95 resolutions received over 10% opposition. Five companies' remuneration report votes received less than 80% support, which is interesting given the focus that is often placed on this category.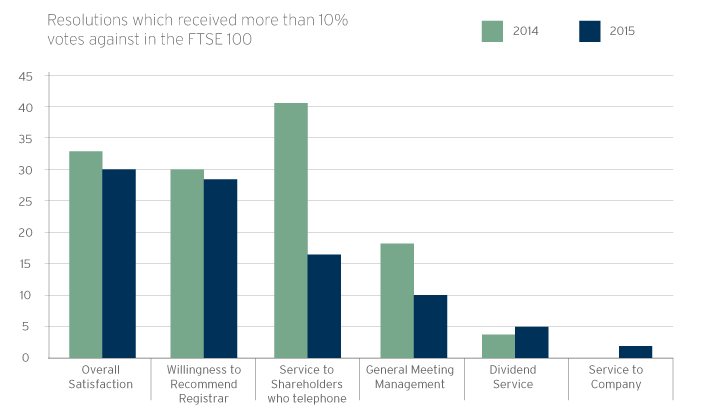 On the surface, these changes certainly suggest that a vote of confidence has returned for directors' remuneration. However, the decrease was also affected by external factors.
In 2013, the British government introduced a new voting requirement on executive remuneration: the directors' remuneration policy. As this came into force for the 2014 proxy season, virtually all companies in the FTSE 100 had to put forward a remuneration policy vote. This vote is only required every three years (when no amendments are made to the policy). As a result, fewer companies proposed this resolution in 2015, which goes some way to explaining the drop in votes against.
Top proxy advisory firms remain influential on voting tren​​ds
As companies across Europe are forced to expand the number of resolutions proposed at the AGM, investors increasingly rely on proxy advisor recommendations to inform their voting decisions. For leading proxy advisory firm ISS, director elections and remuneration reports have been the most contentious issue. However, this year they only gave 14 recommendations against directors' remuneration, compared to 26 in 2014.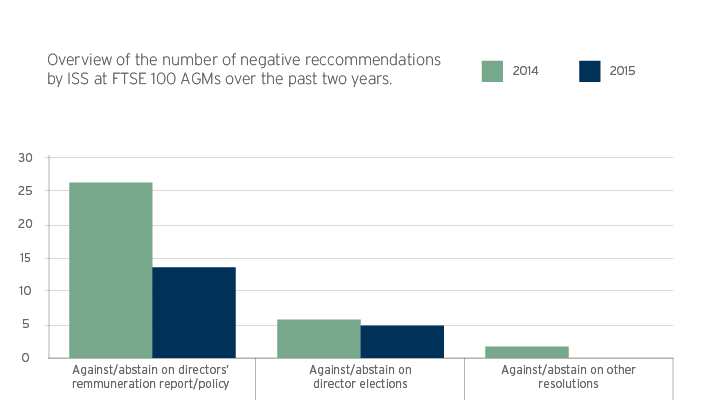 As fewer companies proposed a remuneration policy vote in 2015, it is understandable that negative recommendations also dropped.​
Glass Lewis, another leading proxy advisory firm, offered negative recommendations to a total of 85 FTSE 100 companies.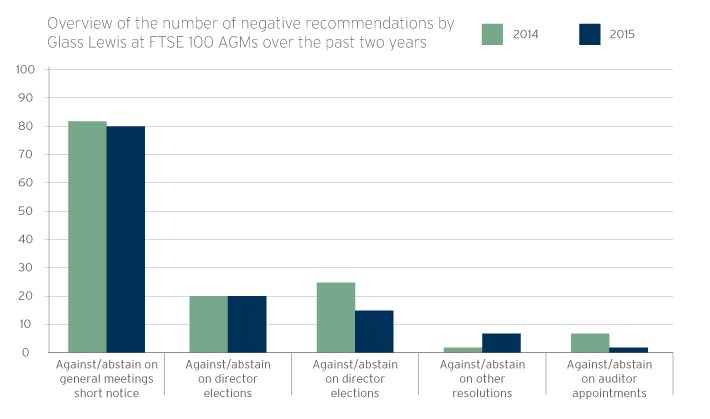 The bulk of Glass Lewis' recommendations were against short notice periods for EGMs, a proposal that they routinely oppose every year. This explains the significant difference in the number of negative recommendations between Glass Lewis and ISS.
As a whole, 2015 has been a quiet year in the world of v​oting
An interesting shift in trends has shaped an uncontroversial season which will have seen many issuers breathe a sigh of relief.
With the 2016 AGM season just a stone's throw away, it remains crucial to analyse these findings and to prepare for the coming AGM season. For a more in-depth analysis of the 2015 proxy season, take a look at our full review here. In this you can find further information on this year's voting trends and governance developments in markets across Europe.