​​​​​We're really pleased to have achieved first place in this year's Capital Analytics survey of registrars.

However, it's our clients who always remain our focus. We've invested in a programme of change across our business to make sure we continue to evolve our services and deliver high standards to all our clients and their shareholders. We're delighted these changes are having a real impact. If you'd like to find out more about what we've been doing behind the scenes, I wrote a recent blog about this in May.​

We're proud of what we've achieved but we're even more excited about the future.
​I'd like to share a few highlights from the results  and I look forward to building on these over the coming months.
​​ ​ ​ ​ ​How investment has benefited our clients:​

​94% 

Overall Satisfaction

​98%

Account Management

​99% 

Dividend service

100% 

General Meeting Management​

​95% 

Willingness to Recommend

We've invested in a programme​​ of work over the last year, and given you more​ visibility of what we do

​We've listened to you, putting your needs at the heart ​of what we do
​We consider this one of the most important services that we deliver for you
​Our investments have further reinforced our dividend processes
We're delighted that you'd endorse our service​​
Our clients gave us more than 90% positive responses for the eight main service areas: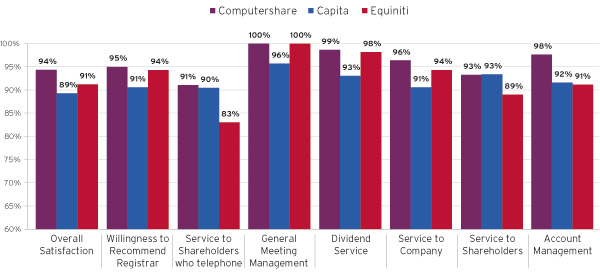 ​