The Capital Analytics UK Registrars Benchmarking Survey asks all the companies in the FTSE 350 to rate the services provided by their registrar, and is the only independent survey in the industry.
That's why it is a great honour to see that we are the top registrar for the 8th consecutive year.
How we scored
Here are the Computershare highlights from the survey, which included responses from 240 companies, 75 from the FTSE 100 and 172 from the FTSE 250.

Proud to be Rated #1 in 24 Categories, Including:


Highest Overall Satisfaction with FTSE 350 companies

Top NPS Score
Best Performance in Service to Company

Account Team Proactivity

Effectiveness of Technology
A Net Promoter Score (NPS) is an industry standard for recognising customer loyalty
We are particularly proud to see our continued investment in people and technology coming to the forefront with a score of 96% in the effectiveness of our technology and our Account team scoring 93%.
Our clients are firmly at the centre of everything we do and we are delighted that these results reflect our ongoing focus on our people, our technology and our services.

Honoured to be Rated 90%+ in the Six Headline Categories: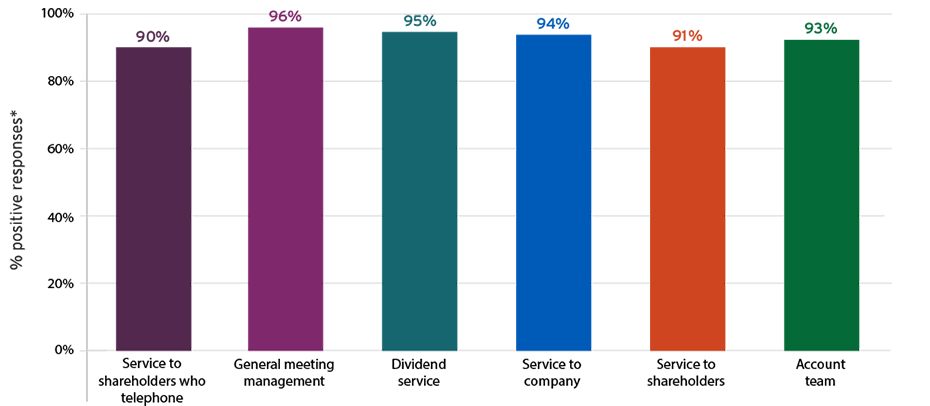 Why Computershare?

Experience and insight

We have 35 years in share registration and teams across all major markets around the world. We'll bring new ideas, tested solutions and a joined-up approach to any multi-jurisdiction projects.

We give you a voice on market issues, working with industry groups to shape future changes that affect you.

Service excellence

We serve your shareholders on your behalf, so what we do ultimately reflects on you. You can trust us to get it right first time, every time.

We invest heavily in our people and technology to continuously improve what we do for you - because your reputation matters.

Our people

Our clients are at the heart of what we do. You'll have an experienced team that you can rely on to listen, understand and deliver.

Our clients tell us it's our people they value most about working with us.