As part of our benefits package, each year we offer the opportunity for our employees to give a little back with a paid volunteering day. Recently some of our teams based in the UK, Australia and the US used this time to support their local charities. Here's how they got involved:
Bristol, UK
It was a day filled with compassion, teamwork, and a shared commitment to making a difference, for our Technology Issuers Services volunteers. They contributed their time and efforts to support local charity, Julian Trust, at its night shelter. The charity provides essential support to people facing homelessness and difficult circumstances.
Our Computershare volunteers covered the work of the shelter for the day. They prepared a nourishing meal; cleaned and created a welcoming environment for the shelter's residents and took part in a painting project that infused the shelter with the positive Julian Trust green colour.
The Volunteer Day not only touched the lives of those supported by Julian Trust but also left a lasting impression on our own team:
"The day went very well – it was great to see us all pull together for some very important jobs at an amazing charity. It was also interesting to hear what the charity does and how it helps people in need. I met some new people, too, which was lovely."
Nikki Scadding, Product Manager, Issuer Product Innovation
"It was good to know we were genuinely able to be of use and it was interesting to see how the place has changed since I last visited six or seven years ago."
Damian Tichborne, Senior Test Analyst, Issuer Delivery
"I had a great time cooking a main course and dessert with my colleagues for those in need. It was really good to hear from our host about how volunteering makes a positive impact on The Julian Trust and local community. I look forward to participating in the next volunteering day."
Anthony Rana, Developer, Issuer Channel Engineering
"I'm glad I took part in the volunteering day. Seeing the work the shelter volunteers do and actually being there really made an impact. It was satisfying to know we helped make life a bit easier for the volunteers."
Alex Moore, UK Product Team Lead, Issuer Product Innovation
Edinburgh, UK
Whilst the team in Bristol were busy helping at the night shelter, their Issuer Services' colleagues based in Edinburgh took part in their own volunteering initiative at VIE Velo.
VIE Velo is an Edinburgh-based charity dedicated to ensuring people with visual impairments get to experience the joy of cycling on tandem bikes with help from sighted riders. It provides training on tandem cycling to impaired and sighted new riders, as well as organising rides twice a month growing the local community and encouraging support and interactions.
Our team of volunteers helped with the maintenance and washing of its fleet of tandem bikes and had the opportunity to experience what the visually impaired experience in a unique session where they rode on the back of a tandem bike with "special glasses" being guided by the charity's experienced sighted riders.
The immersive experience enabled the volunteers to build strong connections with its members and understand the true impact of the charity's work and the significance of volunteering.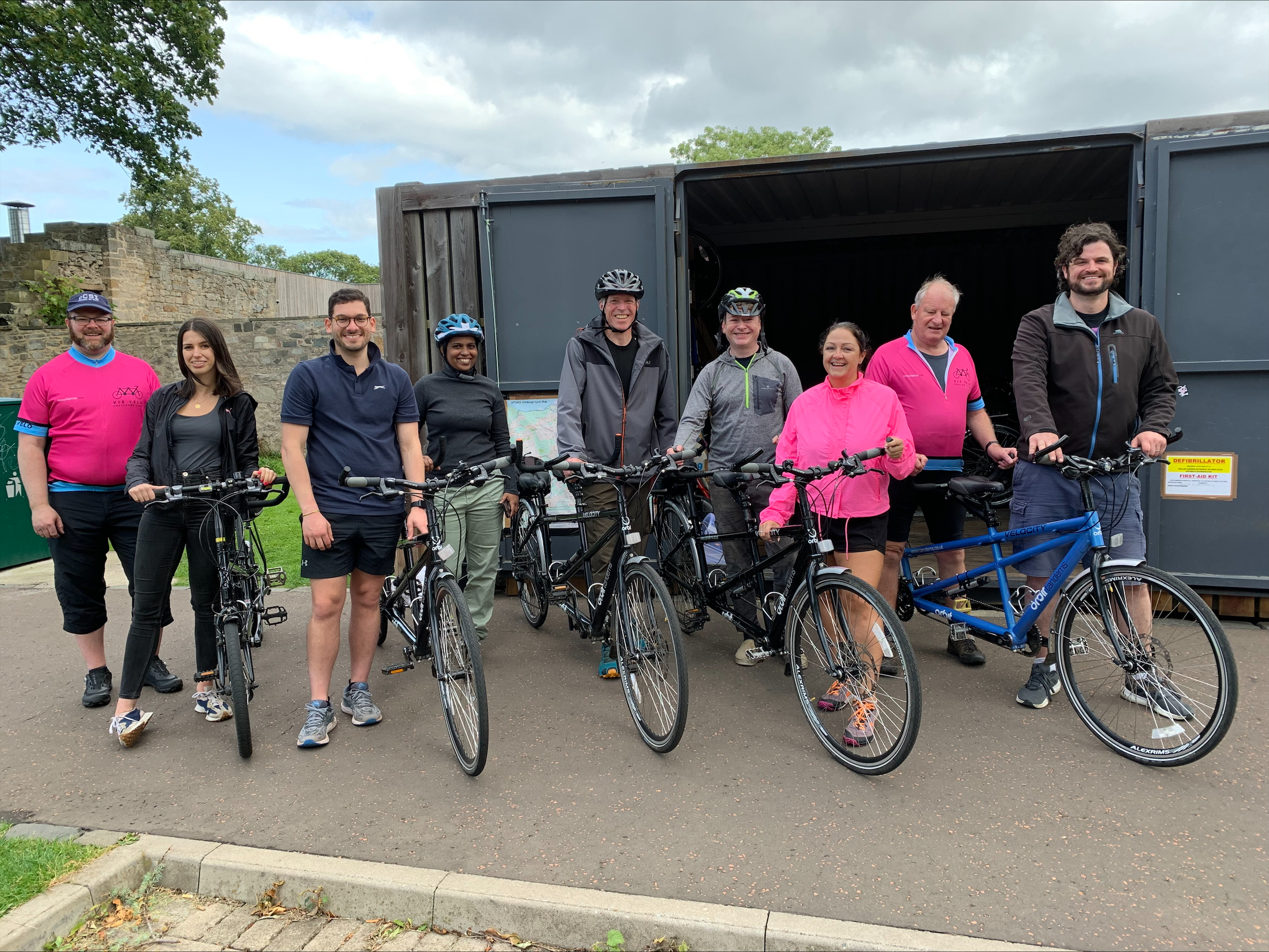 Melbourne, Australia
"Your contributions have gone beyond just providing meals. You've given people hope that others care – hope can be a powerful motivator that inspires change in others' lives." The team at Empower Australia
Following the work of the UK Technology Issuer Services team, nine of their colleagues on the other side of the world in Melbourne took part in a group volunteer day at the end of July with Empower Australia.
Empower Australia is an organisation dedicated to providing food relief and support to vulnerable individuals in our community, it opens its food relief centres to the public on Sundays, to deliver an experience designed to mimic grocery shopping in a supermarket and give recipients of such an experience a space where they can connect and seek assistance.
Our volunteers spent the day at the charity's main distribution centre packing fresh produce, stocking shelves, and lifting dry goods so that they were ready for distribution. The experience was not only impactful for the recipients but also transformative for the team: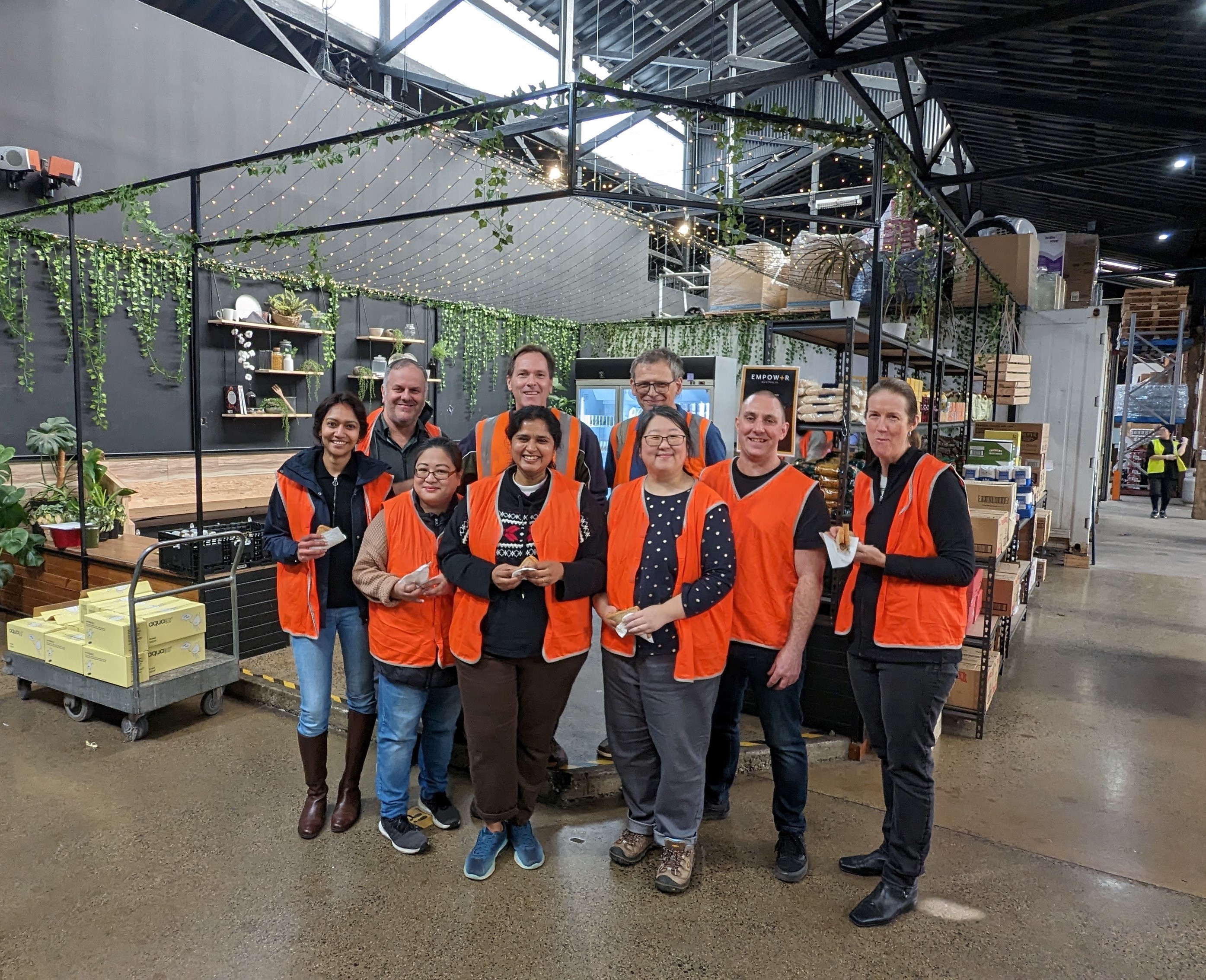 "I was really impressed with the dedication and passion shown by Empower Australia. It was remarkable seeing the level of compassion and care they took in planning out their food pantry to give people dignity, hope and connection. It was a genuinely inspiring day, and I felt humbled that we could help and contribute in a small way."
Vone Ang, Senior Solution Engineer, Issuer Channel Engineering
"Inspiring to hear what people do in the community to help the less fortunate. Hearing the Covid stories, and now the cost-of-living pressure stories, makes you realise how lucky we're to work and have a stable income to support ourselves and our family. The effort they've gone to make it feel like an everyday supermarket was inspiring to me and lessens the stigma around asking for help."
John Kotopoulos, Head of IT Channel Engineering, Issuer Channel Engineering
"Empower Australia typically relies on community volunteers to manage many of the logistics for its operation. It was very fulfilling to help their team prepare the foodstuffs that will benefit hundreds of families in the local area."
Andrew McClintock, General Manager – Product and Innovation, Global Issuer Management
"It was a lovely day for a great cause. I was humbled by the simple, yet beautiful way they made disadvantaged people feel less disadvantaged."
Damien Reed, Scrum Master, Issuer Delivery
"Participating in this charity endeavour was a joy as I found immense satisfaction in the work itself and the act of giving back to the community. The day was truly well spent, and I had the pleasure of collaborating with the wonderful staff at the charity, making the experience even more fulfilling."
Samantha Weerasinghe, Quality Engineer, Issuer Delivery
Minneapolis, MN. United States
Over in the United States, a group of Corporate Trust Document Custody employees supported their community at the Greater Minneapolis Crisis Nursery. The crisis nursery is a resource for families who are experiencing barriers such as unemployment, homelessness, medical or mental health concerns, poverty, domestic violence, or other difficult situations.
The team prepared a warm lunch for kids, ranging in age from two to six years old, and took the opportunity to spend time with the children during their lunchtime. They reinforced the organisation's efforts to help the kids learn mindful eating by pointing out the different textures, temperatures, and tastes that they were experiencing.
The Document Custody team agreed that it was time well-spent, and they look can't wait to spend another volunteer day with this organization in the future.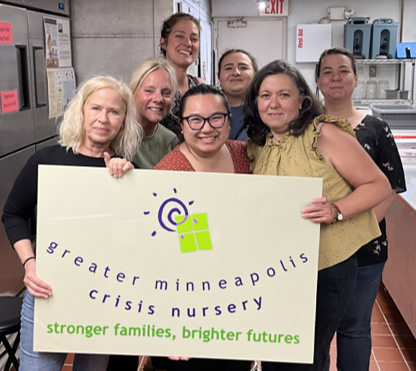 "I appreciate the opportunity that CPU gives us to volunteer our time and contribute to a great cause. Cooking a healthy meal for the kids and seeing them enjoy it was uplifting."
Gabriela Johnson, Operations Manager, Corporate Trust