Our global partner
In 2018, we entered into a five-year agreement with the WYI School in Gokarna, Nepal, after our employees selected it as our primary global project. Since then, Change A Life has funded a range of improvements to the school, including upgrades to classrooms and other facilities, extending the school program into Years 11 and 12, and supporting improvements to the quality of education provided. World Youth International is an Australian-based charity committed to enhancing health, quality of life, strengthening communities and reducing poverty through sustainable development projects.

Our close partnership with WYI was recognised with the Gold Award for Most Innovative Charity and Employer Relationship in the 2020 Workplace Giving Excellence Awards (convened by Workplace Giving Australia). The judging panel described our relationship with WYI as "an authentic and growing partnership with great engagement."

Our funding commitment to the WYI school in Gokarna is over AUD 1.3 million through 2022.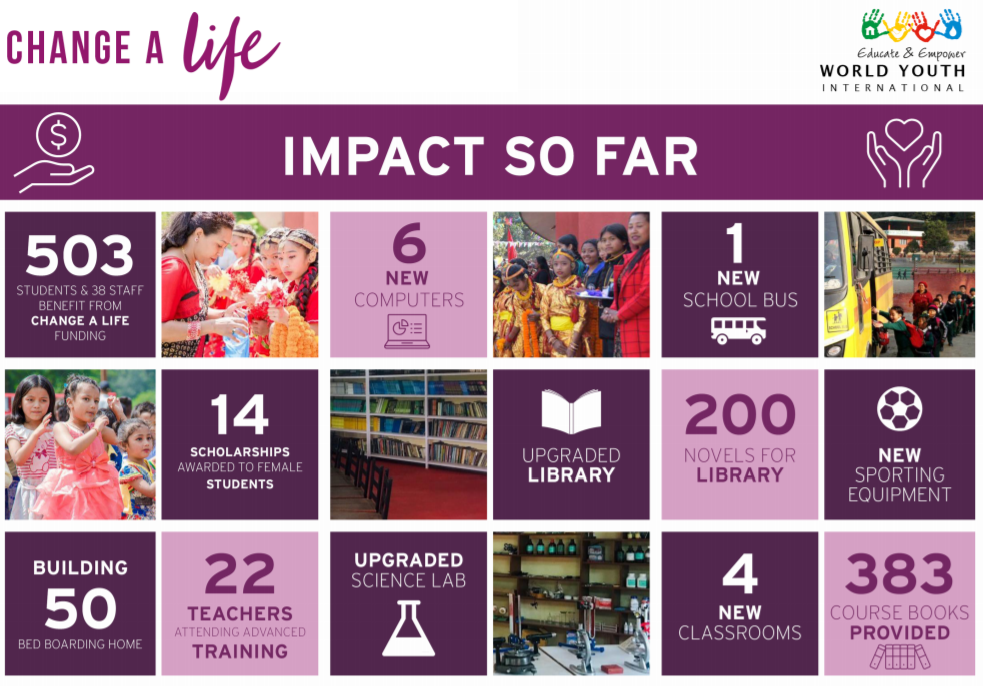 Progress at the WYI School during FY21
During the past year or so, the school's work has, unfortunately, been interrupted by lengthy lockdowns triggered by Covid outbreaks in Nepal. Despite these challenges, the school has continued to support its students through remote learning programs. Computershare has provided additional emergency funding, helping to pay salaries and retain the majority of their skilled teachers. Staff have developed a range of online and at-home study resources to enable students to continue their education. Despite the challenges the school has faced, its enrolment has grown from 508 to 598 during the most recent school intake.
Completion of the new 'Change A Life' student boarding home
The construction of the new on-campus student boarding home was completed this year. The new facility will be home to 25 male and 25 female students undertaking Years 11 and 12, a great benefit for students who find it difficult to make the daily trip to and from school, especially during the monsoon season. These boarding students will be supported by on-site staff, have extended access to the computer room and other study resources and benefit from a safe and engaging co-ed community. An official opening date will be confirmed once furnishings have been purchased and operational arrangements have been finalised. Boarding fees and scholarships will help to make the WYI school self-sustainable into the future.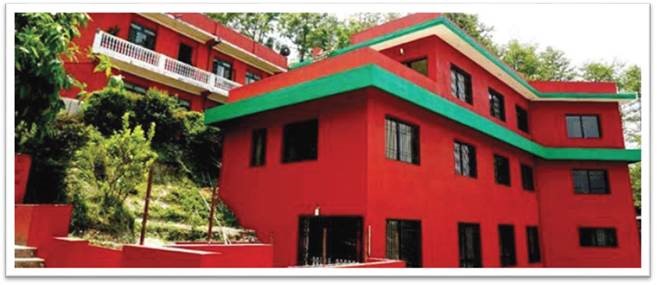 Meet students and staff at the WYI school
Anju

Anju has attended the WYI School since nursery as a sponsored student. Coming from a family of seven, her parents struggle financially, and Anju would not be able to further her studies if it wasn't for the sponsorship. She is a grade-A student who studies hard to achieve top results as well as a strong athlete who has won many medals. Anju is very appreciative for the support she receives, and is extremely optimistic that she can achieve her desired goals as a result of the continuous sponsorship.

Anita

Anita attended the WYI School as a sponsored student from the age of four. Her family was suffering financially and the sponsorship enabled Anita to continue her education. Anita graduated from the school in 2014 with outstanding results and commenced a Bachelor of English at Jaya Multiple College. She is currently working as an English teacher at the WYI School and has a fantastic outlook on life. Through receiving the financial support towards a quality education, she now has a much greater quality of life and is able to support herself and her family financially.

Suvadra

Suvadra has been a mathematics teacher at the WYI School since the school's establishment in 1999. She is well respected in the community due to her dedication to her students and their studies. Suvadra is extremely happy and grateful for the support the WYI School and students receive, and has been able to witness first-hand the positive change the support has brought to the community.

Chairperson, World Youth International School

Radha Uprety

Radha is the Chairperson at the World Youth International School in Gokarna, Nepal. The benefits of her leadership, guidance and support can be seen throughout the school and wider community. Radha has been a flag-bearer for women's empowerment in Nepal. She is a role model for female students and is seen by the women in the community as a true example of what a woman can achieve. Radha encourages, supports and guides girls to break stereotypes and to push themselves to achieve their goals.
"WYI School is able to bring a change in the community of Gokarna and its surroundings. A lot of under-privileged children were deprived from education in Gokarna but the establishment of WYI School has brought a radical change to the lives of hundred children in this area. I am always grateful to WYI Australia for your holy humanitarian work and the sponsors who are helping our children to read in this beautiful school. WYI School not only teaches us academically but we learn the art of living. The different subjects like scout, yoga (philosophy), music, dance, life skill training help us to expand our consciousness. The games, competitions, tour, picnic etc. are always imprinted to our mind. I am thankful to the director, principal and all the teachers for your hard work to bring a quality education in school. Finally, I am very much thankful and want to appreciate to all the non-teaching staff of WYI School for your effort to make my school life better and wish the school would be an example for many who want to bring a positive change of lives. Thank you."
Pratikshya Shrestha, Graduate of the WYI school in 2017
Trek Nepal
In 2018, a team of 33 Computershare employees from the UK, Channel Islands, Europe and South Africa completed an arduous six-day trek through the foothills of the Annapurna range, after raising more than AU$290,000 to begin the construction of a boarding home on the WYI School campus. In 2019, it was the turn of 21 of our employees from Australia, New Zealand and Hong Kong to do the same – they raised more than AU$195,000 to complete the boarding home construction.
Both treks finished with visits to the WYI School, a festive day of performances from the students, sporting contests and joyous celebrations.
Sadly, our planned trek for employees from the US and Canada in 2020 had to be cancelled due to Covid, but we have plans for a virtual trek for all of our employees to participate in during the coming year.