Computershare > News and Insights > Computershare Connection

The protection of your critical data is a top priority for you, and at Computershare, we completely understand. That's why we rigorously protect your information as if it were our own, with advanced data security, stringent risk controls, and recurring audits.
There are times when your organization may require reports detailing the "systematic and organizational controls" or SOC reporting, such as the SOC 2 Report. You can now request a SOC 2 Report, when you need it.
About the SOC 2 Report
The SOC Report assesses an organization's information, security, and confidentiality, as established by the American Institute of Certified Public Accountants (AICPA). Computershare produces both SOC 1 and SOC 2 reports through an external, independent assessor, PwC. Both reports provide an opinion on the design and operational effectiveness of controls over a defined period; however, the coverage of controls and risks vary. Here are the high-level differences: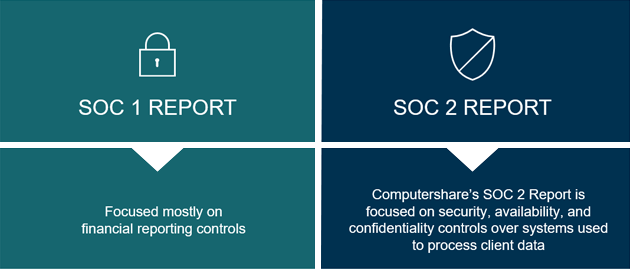 SOC Reporting Client Benefits
With the SOC 2 reporting provided by Computershare you'll benefit from time and cost savings for future audit needs as your organization's Information Technology or Vendor Management teams may request SOC reports each year.

How to obtain a SOC 2 Report from Computershare
SOC 2 Reports, in English only, are available for the six-month assessment period from 1 May through 31 October, 2022, at the cost of CA$1,000. This charge covers the report production cost and will be included on a future invoice. To obtain a SOC 2 Report, please contact your relationship manager.
Latest Computershare Connection Articles