Introducing the new Computershare TrustConnect™ Escrow and Paying Agent Portal
In this digital age, we are all looking for ways to do things faster and better. Text messages, search engines, and GPS navigation are examples of digital technologies that have improved our daily lives by rendering their analog, paper-based counterparts (i.e., letters, directories and maps) obsolete. We've come to expect digital innovation to help us save time and achieve better outcomes. When you're part of an important deal, you should expect no less from your escrow and paying agent.
In my previous blogs, Expect More from Your Escrow and Paying Agent and Choose the Right Escrow Agent to Mitigate Your Risks, I emphasized the importance of innovation and that the future of high quality escrows would involve technology that provides you with current transaction-related data at your fingertips. That future is possible today with the new Computershare TrustConnect™ Escrow and Paying Agent Portal, the first of its kind in Canada. Built for the needs of our escrow, paying agent and M&A clients, the portal provides a deal-central online experience and takes the burden of the deal payment portion off your plate.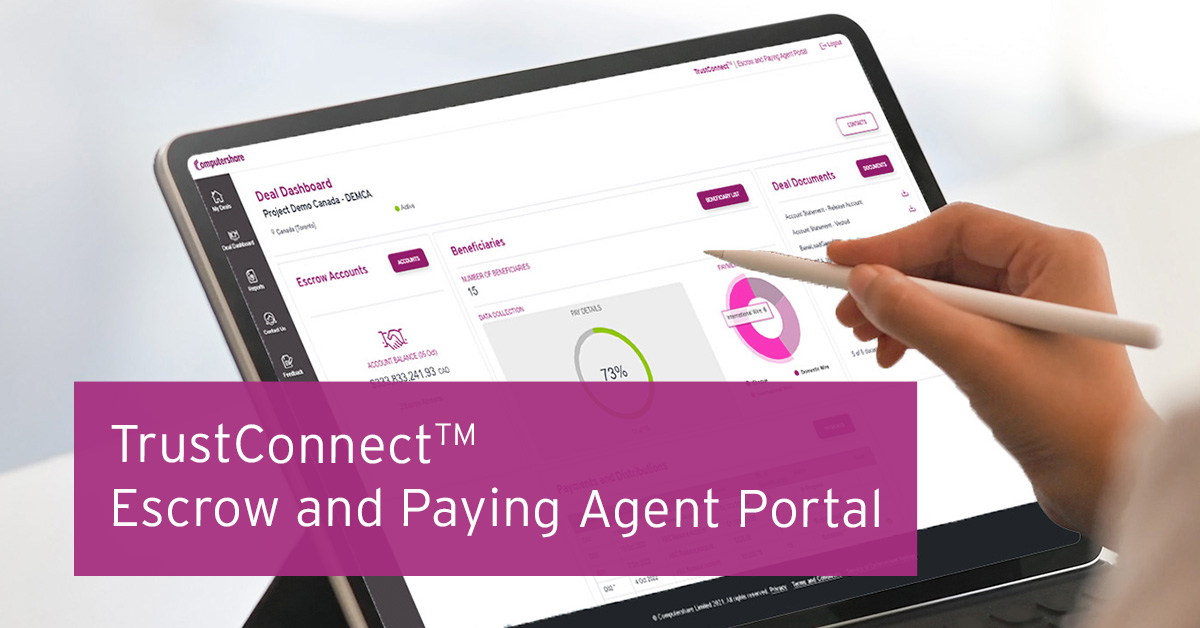 A deal done using our online Escrow and Paying Agent Portal means that you provide us with your payment recipients' email addresses, and we do the rest. Computershare handles the communication and invites your payees to access the portal's Registration Site to confirm their contact info, provide banking and payment instructions and other required information. Our Computershare team of experts conducts applicable anti-money laundering checks, assists your payees with any payment instruction questions or troubleshooting and, of course, issues the payments in accordance with your terms.
Throughout the process, you can access the portal's Deal Dashboard to view the status of your payee data collection and payment delivery as well as escrow balances and beneficiary information. Our Escrow and Paying Agent Portal puts key deal metrics and deal documents at your fingertips, whenever and wherever you need them.
5 Ways Going Digital with Computershare on Your Next Deal Eases Your Burden
The TrustConnect™ Escrow and Paying Agent Portal is designed to support your transactions with care and precision
Takes the collection of payee information and banking instructions off your hands
Provides accessibility for your clients and payees anywhere, anytime
Issues payments to hundreds of payees at the same time
Provides data on the progress of payee information collection and the subsequent disbursements
Centralizes your deals, balances, and payment information on a single platform
Computershare clients have always relied on our experienced team members to provide smooth and accurate administration of transactions. Now, in addition to the high-quality service from our teams, clients can experience even more efficiency with Computershare's cloud-based Escrow and Paying Agent Portal.
Check out these short video clips and learn more about our new portal or contact me for a personal demo at Alessandra.Pansera@computershare.com.