Thanks for coming along to this year's Investor and Analyst briefing. Below you will find links to useful information about the day, as well as the presentation content itself.
This year, each person has been assigned one of three streams, and you can tell which stream you're in by looking at the colour in the top right hand corner of your name tag. The running order is below, on the posters on the wall in the main conference centre and also on the back of your name tag.​
Today's agenda
10.00am - 10.20am

Introduction

10.20am - 11.00am

Margin Income Unwrapped

11.00am - 11.40am

Global Registry and Employee Share Plans

11.50am - 12.30pm

Blue stream - Delivering Efficiencies Orange stream - UK Mortgage Servicing Green stream - US Mortgage Servicing

1.10pm - 1.50pm

Blue stream - US Mortgage Servicing Orange stream - Delivering Efficiencies Green stream - UK Mortgage Servicing

2.00pm - 2.40pm

Blue stream - UK Mortgage Servicing Orange stream - US Mortgage Servicing Green stream - Delivering Efficiencies

2.50pm - 3.15pm

Closing remarks and question time
Map of Yarra Falls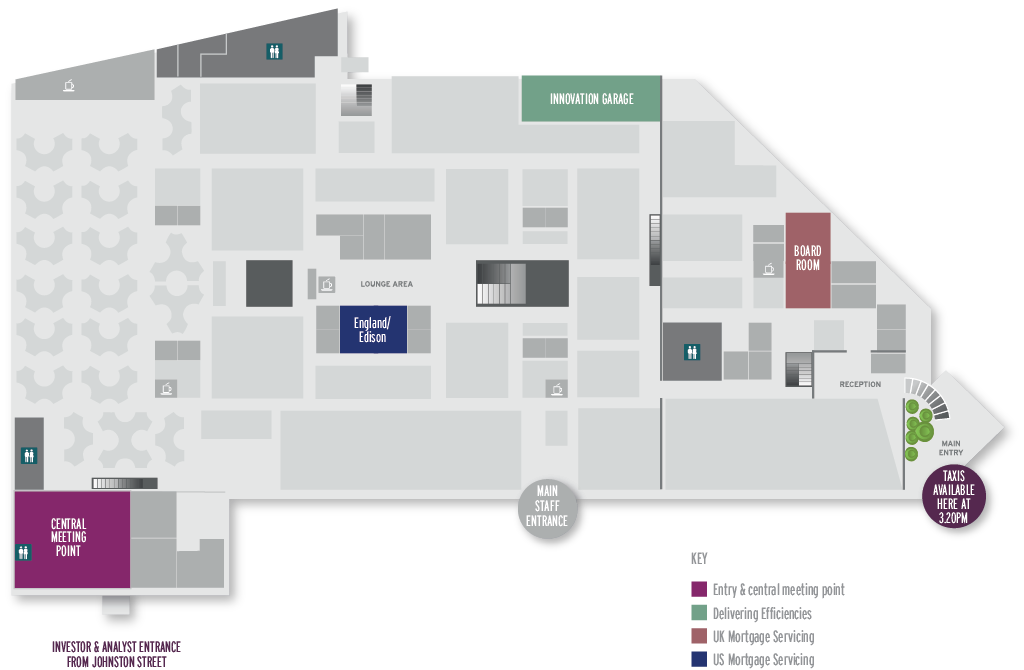 Profiles
Chief Executive Officer and President

Stuart Irving

Stuart Irving was appointed President & Chief Executive Officer of the Computershare Group in July 2014. Prior to this, Stuart was Computershare's Chief Information Officer where he had responsibility for leading all aspects of Computershare's global information technology infrastructure and line-of-business application management, including the Information Security function. Before joining Computershare in 1998, Stuart held a number of roles at the Royal Bank of Scotland.
CEO, Computershare Loan Services UK

Andrew Jones

Andrew joined Computershare in 2014 as part of the acquisition of Homeloan Management Limited (HML). Before taking over as CEO of HML in October 2011, Andrew was Chief Operations Officer responsible for all aspects of operations and IT. Andrew has extensive experience of delivering large-scale business change across mortgage servicing and wider financial services.

Global Chief Information Officer

Mark McDougall

Mark worked as a management consultant and held various roles within financial services companies before joining Computershare in 2009 as Global CTO to lead the Global Development Group. He was appointed Global CIO in 2014 and is responsible for all aspects of line-of-business application development and management, governance, and Computershare's customer-driven innovation framework.

Global Head of Issuer Services

Naz Sarkar

Naz Sarkar worked with Lloyds Registrars for more than 15 years before he joined Computershare in 2005. He was appointed Chief Executive Officer of Computershare's UCIA region businesses in 2010 and then became CEO of Issuer Services in 2019. Naz is responsible for the core Register Maintenance and Corporate Actions business and wider Issuer Services portfolio, which includes Proxy and Government product sets. Naz focuses on opportunities to extend into complementary and adjacent markets to grow the Computershare Issuer Services portfolio and maintain our unparalleled global capabilities.

Chief Financial Officer and Global Head of Loan Services

Nick Oldfield

Nick has been Computershare's CFO since December 2019 and is closely involved in the company's short and long-term business strategies as well as managing and all finance activities and M&A. In addition, he is Head of Computershare's Loan Services business, with overall responsibility for the management and delivery of the strategic and financial plans in the US and UK. Nick spent six years with Arthur Anderson after graduating, working in both the UK and Australia. He moved on to Rothschild in their Melbourne Venture Capital team before returning to the UK in 2003 and taking up a role as Director of Corporate Development for Computershare's EMEA business, overseeing more than 20 acquisitions and investments in a variety of countries. He became CFO, EMEA in 2007 and re-located to the USA as CFO for that region in 2014.