Gain efficiencies

Hand off those labour-intensive tasks to us so you can focus on driving your company's financial success.

Forecast for the future

Fully integrated financial reporting tool lets you easily expense plans today and forecast for the future.

Cut unnecessary risk

Equity experts + automated processes = compliance with tax laws and regulations.
Still not sure if you should outsource your equity plans administration?
Check out Five Improvements from Outsourcing Your Equity Plans Administration.
Learn More


The administration side of things
The great thing about outsourcing your plans is you no longer have to do all the work yourself. In fact, you'll have a team of equity plan professionals at your fingertips to manage every part of your plans:

 

Your Relationship Manager ensures services meet or exceed client expectations, oversees the strategic direction, management and overall success of your plans, and coordinates the implementation of requested enhancements.

 

Your Client Service Manager acts as the liaison for complex administrative issues, and manages the administrative team responsible for day-to-day tasks and specialized support functions.

 

Your Client Service Professional is responsible for daily processing and research, fields questions, acts as the liaison for all plan administration issues and generates and provides company reports.

 

Your Financial Service Manager fields questions and acts as the liaison for all financial reporting issues (for GEMS users).
With this team at your disposal, you'll be able to hand off most administrative tasks for your plans. You'll also have experts who ensure all deadlines are met, forms are submitted, and regulations are covered to avoid unnecessary penalties as well as damage to your company's reputation.
Fully integrated financial reporting improves efficiency and accuracy
Understanding how to properly expense equity plans is critical. Being able to forecast future expenses is vital. That's why you'll also have access to our financial reporting solution, fully integrated into our administration system so data in the reports is up-to-date and accurate.
IFRS and US GAPP Compliant
Black-Scholes calculator
Full audit trail
Multi-securities and multi-currency support
Wide selection of standard reports
Reporting wizard for customizing reports
Powerful access rights management

The participant side of things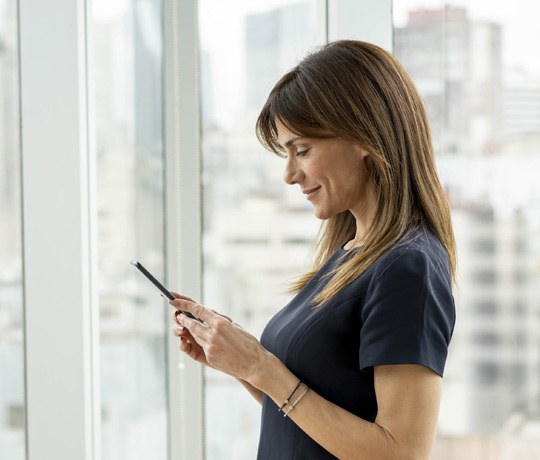 Participants fully manage their equity plans through our website, from grant acknowledgement to tax elections, to vesting, holding and sales. They'll have tools to model the current and future value of their awards, as well as educational resources to help them understand the plans offered to them. Support for participants is available through online documents and through our call centre.
Got 45 seconds?
Position Your Company for Financial Success with Computershare
WATCH VIDEO

Due to Canada's Anti-Spam Legislation, we are required to obtain your consent to send you commercial electronic messages. By selecting 'Yes' and submitting this form, you consent to receive electronic marketing messages from Computershare Canada and its affiliates about the topics noted above. You can withdraw your consent at any time by clicking on the unsubscribe button which is available in all electronic communications. To find out how we collect, use and safeguard your personal information, please refer to our Privacy Code.
*Includes Computershare Canada Inc., Georgeson Shareholder Communications Canada Inc., Computershare Governance Services Ltd. and their majority owned subsidiaries operating in Canada (collectively referred to as "Computershare Canada").