​​​
Manage your equity plan online
We'll put all your plan reports and data at your fingertips. Simply log in to our secure online portal to access your plan reports all in one place. The portal also makes it easy for you to share files with us, request new reports and search for participant data.​​
When we develop your plan, together we'll specify all the different reports you'll need around contributions, sales, transfers, tax, and more. We'll build the reports and publish them to your online portal at the frequency you set. When you need a different report, simply let us know - either online or via your client manager. We'll build it out and publish it to your online portal, ready to download.​​​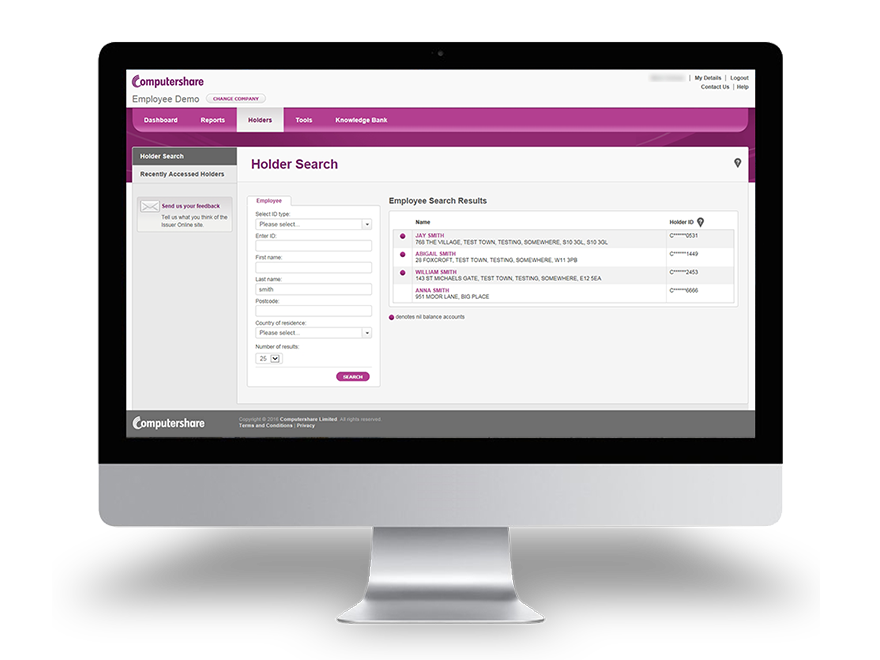 Everything you need, in one online portal
See all your participant data in one place
Log in and search for a participant. Open their record to see all their plan information. Contribution history, available shares, sales and purchases…it's all there. Set different permission levels so you control what each member of your team can access.
​Put yourself in a participant's shoes
Use our handy 'Employee View Online' feature to see a participant's data presented just as they see it in their online account. No more guesswork when dealing with those trickier enquiries.
Share your employee data securely
Throughout your plan lifecycle, you'll frequently be sharing data with us – and vice versa. Many of these files will contain your employees' personal information. We've built a secure sharing module to make this quick, easy and worry-free.
Customise your dashboard
Personalise your dashboard so you can see your most frequently accessed tools and reports all in one place as soon as you log in. It's a small detail, but you get what you want and you get it fast.
Expert support at every step of your equity plan journey
​
Support
Support till dina anställda
Visa mer