Summer Internship Programme
Every year, Computershare organises a two-month internship programme as part of our wider initiatives in nurturing youth and developing talent. ​The programme offers interns room to learn, develop and take up responsibilities as a team. Some of our interns even end up working for us once they graduate!


2018 Summer Internship P​rogramme - farewell party!
​Our summer internship programme in 2018 has come to an end and we have thanked the team for their hard work over the fast-paced and exciting AGM season this year. During the party, Johnson Liang, our Manager of Plan Managers, shared some information about his career path and business expansion providing opportunities to grow, while Bonnie Li, our Manager​ of IPO Management​, looked back on the unrivalled experiences she grasped at Computershare which enable her to handle IPOs liaising with different stakeholders across​​ industries. Check out the photos of our farewell party:​

​​We believe in our young talent, which is why our interns do not simply sit in the office and listen to instructions. Instead, they join one of our core business lines as a team member and have the opportunity to lead their fellow interns in preparing and providing the best meeting experience to our clients, investors and shareholders during the fast-paced and exciting Annual General Meeting (AGM) season.​​
Let's check out this video to hear what our 2018 summer interns have gained through our internship programme.
Opportunities and exposure
"The trust and encouragement from Computershare's senior management staff is indispensable. They allow us to take part in numerous important roles. It's valuable that the company is willing to offer inexperienced youngsters like us some opportunties to accomplish crucial tasks that we have never come across.​​"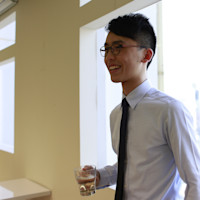 Mark Chow, Intern, 2016 Summer Internship Programme
You can watch this video to see what our 2015 summer interns have experienced​ and what they have learnt.

​We don't just offer jobs, we offer careers
Opportunities and exposure

Do you want to join a company that offers opportunities for you to reach your career potential? At Computershare, we invest in and develop our employees so they can achieve their professional goals. We encourage our people to dive in, roll up their sleeves and take on the many opportunities bound to come their way.

Training and development programs

We offer training and development programs that allow you to expand your skills and abilities. Our culture of collaboration encourages employees to work together to solve today's business problems and create tomorrow's products and services.

Computershare - where careers begin

We're always on the lookout for people who can bring new ideas, challenge the status quo and exceed the needs of our clients and their shareholders. Check out the sharing from our people and life at Computershare in this brochure.
Join our team!
If you're looking for a company that creates careerbuilding opportunities, with offices in more than 20 countries, join us!
Apply Now