​Ten years ago most portfolio managers weren't concerned with matters surrounding corporate governance and superannuation funds hadn't taken control of their voting rights. So, the key players were few, and the effort required to answer their questions was manageable.
Now, portfolio managers have dedicated teams of ESG specialists, and more superannuation funds are choosing to take control of their voting, meaning the landscape is more convoluted than ever. The diagram below shows the various external influencers who have an impact on investment decisions and AGM voting, which comes in addition to an investor's own research.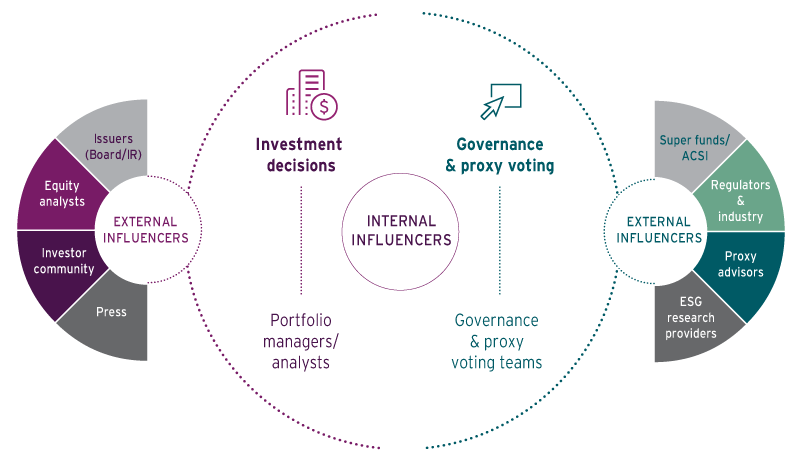 It is crucial that you build relationships with both the people buying your shares and those who are voting at your AGM. Sometimes these are one and the same, but many funds now have dedicated stewardship and governance teams which add a layer of complexity to the equation. Each one of these stakeholders takes a different approach, has differing priorities and, as shown on the previous page, is influenced by different factors. Regardless, you must ensure you regularly engage with all of them.
When you accurately assess the voting authority of your investors, it often results in a vastly different list than that seen in share register analysis reports.
Managing each of these influencers effectively and engaging regularly can be challenging. But to ensure you're maximising support at your AGM, it's non-negotiable. Most issuers embark on investor roadshows at least twice a year to discuss financial performance and plans for the future. This is an important function which helps to retain and attract capital investment.
An emerging trend is the use of governance roadshows undertaken by non-executive directors. These roadshows will incorporate index funds, superannuation funds, quantitative funds and proxy advisors, who are not usually part of a traditional roadshow but will still vote at the AGM. Furthermore, these investors have little, if any, input into decisions to buy and sell shares, shifting the focus from financials to corporate governance.
When you accurately assess the voting authority of your investors, it often results in a vastly different list than that seen in share register analysis reports. This exercise typically reveals the underlying beneficial owners who have significant influence over the final AGM result. Engaging with the beneficial owners as part of the governance roadshow and in the lead up to the AGM is imperative in securing a positive result.
Key takeaways
Know who is voting your shares. Not just who has bought them
Enhance your public disclosure to ensure it meets the expectations of investors and advisors
Don't assume strong financial performance will automatically deliver a positive AGM result
Don't wait until your financial results are released or until just before your AGM to engage; maximise support by engaging regularly throughout the year
Make sure to include ESG-conscious investors such as index funds and superannuation funds as part of your investor relations program.
This article was originally published in Computershare and Georgeson's report - 2020 AGM Intelligence: the driving forces behind AGM outcomes. To download the full report, click here.